Dag Studio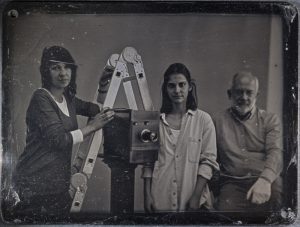 A nineteenth-century inspired daguerreotype studio will be installed at the conference venue, Universidade Lusófona.
Thanks to LUPA – Luís Pavão Lda. (www.lupa.com.pt), you will rediscover one of the first techniques of photography and take the result back home with you.
This unique experience will take around 2 hours, during which you will be invited to participate in the several stages of the process: polishing the brass plate, preparing a pose with clothing and props of your choice, exposure of the plate to iodine vapors to create a light-sensitive surface, image development, fixation and gilding, and finally the packaging of the plate in a case specifically designed for this event.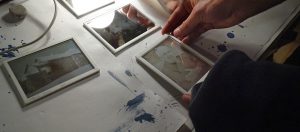 Details:
Registrations are open for the first two days of our conference: 18 and 19 of June.
Given the duration of this process we can only book 10 portraits a day (5 in the morning and 5 in the afternoon).
When these vacancies are filled, you will be referred to a waiting list and informed of this. This way, in case there is still time left, you will be called to the studio. For this, your registration should include name, email and also a phone number to which we can text you.
Prices:
Gilded daguerreotype, dimensions: 9X12 cm, glass sealed with brass frame, without case: 90,00€
Gilded daguerreotype, dimensions: 9X12 cm, glass sealed with brass frame, with case: 120,00€
Please send your registration to: stereoimmersivemedia@ulusofona.pt